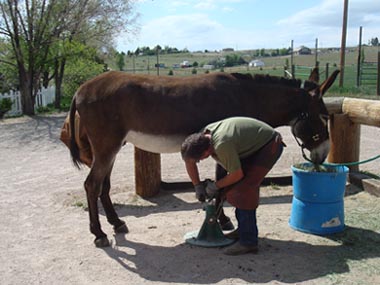 Hoof Trimming
Ross is a natural balance barefoot hoof trimmer, certified through the Equine Lameness Prevention Organization and has extensive experience in the unique hoof care, behavioral, and handling needs of donkeys. He also has numerous domestic horse, mule, and mustang hoof care clients.
Donkey's (and mules!) hooves are very different from horses and their proper care is the critical foundation on which health, happiness, and fitness are built.
We work with your equine to ensure that we never have a struggle on trimming day. We take a quiet and confident approach to your animal and believe that all work should be performed with as little restraint as possible. If there is an underlying behavior or training issue, it is addressed as part of the trimming program. Once we have an established hoof care program, you and your equine will enjoy the visit and be satisfied with the results.